The Annual Skydiving Over The Himalayas Trip To Nepal
How This Works
Step 1: Please read all trip details such as Itinerary, Group Dates, What's Included, What's Not Included etc below
Step 2: To Know the cost of the trip, Just fill up the quick application form below
Step 3: Check your inbox/spam/promotions folder and reply there to ask questions or confirm
Watch The Video Of Our Last Few Skydiving Over The Himalayas Trips To Nepal
Skydiving Over The Himalayas
Apply Now To Know The Price
The World is full of window shoppers but we are looking for the passionate ones genuinely looking to pursue the extraordinary!
Get the picture ? 🙂
So if this feels like your calling, take a minute to fill up the quick form below and we will send you the cost and next steps on email. 
(Refresh and check your inbox / promotions / spam folder for an automated email from Gobeepbeep within 60 seconds)
[gravityform id="1″ title="false" description="false" ajax="true"]
**In case you face any issues with the Application Form or if you have applied for a trip before, just email team@gobeepbeep.com

Widget not in any sidebars

Want to be the first to know about crazy new BEEP Trips?
Just click the button below and say "Subscribe"
Our Reviews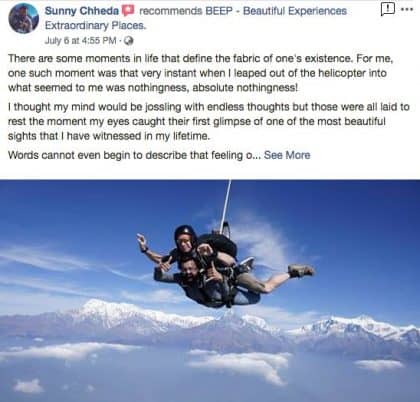 Upcoming BEEP Trips
 

What's on your
Bucket List ?
Whatsapp +91 – 9820-715-063 if you need to talk to us!
or
 Live Chat by clicking the Messenger link below and type "Help"!