Instead of Skydiving In India, Come Skydive Over The Himalayas In Nepal !
If you are reading this article, it means that you have been looking for or are interested in an opportunity to go Skydiving in India!
There are very few places with a good safety record where you can do skydiving in India to start with but from what we know a skydiving center near Delhi or a temporary one near Mumbai that comes up sometimes is your best bet at being able to do so in India currently.
Of course Skydive Dubai or Skydiving in Thailand are good options too…
But what if we told you that something truly extraordinary was happening not so far away from India instead?
How about a rare opportunity to actually skydive out of a helicopter over snow clad Himalayas !?
Only 100 people in the world get to be a part of this rare ONCE-A-YEAR-ONLY Skydiving event/trip we organize every year for the last 3 years with special permissions from the Government of Nepal for just one week in November.
In Dubai and Thailand the skydiving centers are permanent and hence thousands of people go do the skydive there every year, but our Skydive Over The Himalayas happens for just a lucky few for just one week of the year every year!!!
No matter where you live in India, all you need to do is take a quick and usually cheap flight to Kathmandu in Nepal and we will take care of the rest!
This 6 day trip to Nepal is open to everyone with no prior skydiving experience needed.
Dates:
This year is the 4th annual edition of our event / trip and the dates are 19th November to 24th November 2019 and we have a 6 day tour package designed for you, details below.
No other dates or months are possible because there are no permanent skydiving centers anywhere in the Himalayas due to inhospitable weather most year.
We take special permissions from the Government to make this this incredible Once-In-A-Lifetime experience happen!
So while you may be able to go Skydiving in India but we are talking about a rare bucket list experience to Skydive Over The Himalayas meant only for a handful of people in the world each year.
Weather:
Unlike in Northern India, November is a time of amazing sunny and cool autumn weather in this part of Nepal and temperatures range between 19 degrees to 27 degrees celsius.
Think T-shits in the day and light jackets at night.
Skydiving Crew and Equipment
We fly down state of the art Tandem Skydiving equipment from the United States for this one week long event.
Our Skydiving crew is full of legendary World Record Holder Skydiving Instructors such as Wendy Smith (NZ), Tom Noonan (USA) , Paul Henry de baere (FR), Jean Philippe Audhuy (FR) and World Freeflying Champion Omar Alhegelan!!
So you are in the safest hands possible and about to do something that 99.99999 percent of the people in the world will just dream about 🙂
Apply Now To Know The Price
The World is full of window shoppers but we are looking for the passionate ones genuinely looking to pursue the extraordinary!
Get the picture !?
So if this feels like your calling, take a minute to fill up the quick form below and we will send you the cost and next steps on email. 
(Refresh and check your inbox / promotions / spam folder for an automated email from Gobeepbeep within 60 seconds)
[gravityform id="1″ title="false" description="false" ajax="true"]
**In case you face any issues with the Application Form or if you have applied for a trip before, just email team@gobeepbeep.com
Our Reviews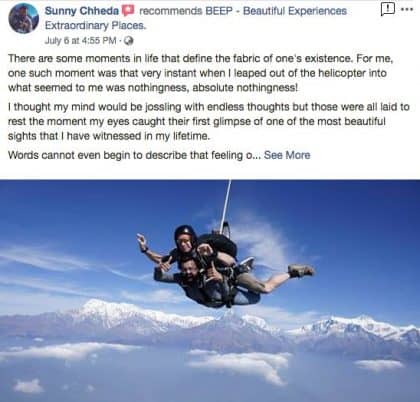 Upcoming BEEP Trips
What's on your
Bucket List ?